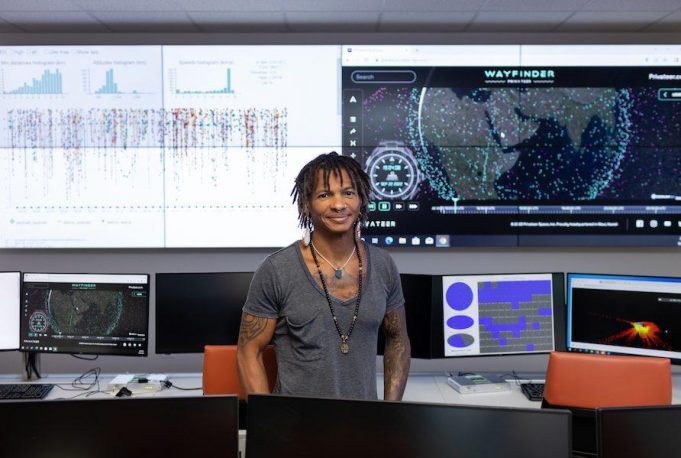 Image credit: John D. and Catherine T. MacArthur Foundation
Image credit: John D. and Catherine T. MacArthur Foundation
October 12, 2022
|
Anne Trafton | MIT News Office
MLK Visiting Scholar Moriba Jah receives 2022 MacArthur Fellowship
Moriba Jah, a Martin Luther King Jr. Visiting Scholar, received a 2022 MacArthur Fellowship. Jah is hosted by Danielle Wood, Assistant Professor of Aeronautics and Astronautics and Media Arts and Sciences, and Richard Linares, the Rockwell International Career Development Professor and Associate Professor of Aeronautics and Astronautics. Danna Freedman, the F.G. Keyes Professor of Chemistry at MIT, is also a recipient this year.
Often referred to as "genius grants," the fellowships come with a five-year, $800,000 prize, which recipients are free to use as they see fit. Freedman, who found out about the award in early September, before it was publicly announced, said she was "completely in shock" after hearing that she had been chosen for the fellowship.
Jah is an associate professor in the Aerospace Engineering and Engineering Mechanics Department at the University of Texas at Austin whose research interests include space sustainability and space traffic management. At MIT, he is developing and strengthening a joint MIT/UT-Austin research program to increase resources and visibility of space sustainability. Jah is also helping to host the AeroAstro Rising Stars symposium, which highlights graduate students, postdocs, and early-career faculty from backgrounds underrepresented in aerospace engineering.

Other MIT faculty members who have won MacArthur Fellowships in recent years include geologist Taylor Perron (2021); brain and cognitive scientist Joshua Tenenbaum (2019); health care economist Amy Finkelstein and media studies scholar Lisa Parks (2018); computer scientist Regina Barzilay (2017); and economist Heidi Williams (2015).