Employment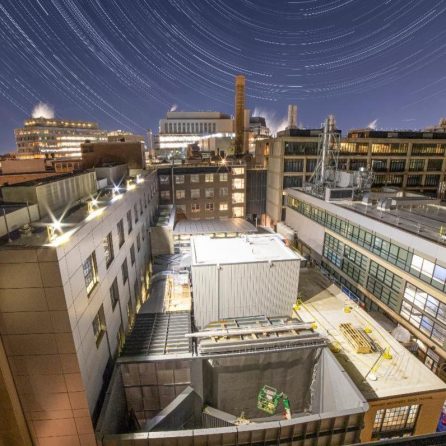 MIT is an Equal Opportunity/Affirmative Action employer. All qualified applicants will receive consideration for employment and will not be discriminated against on the basis of race, skin color, gender identity, sexual orientation, religion, disability, age, genetic information, veteran status, ancestry, or national or ethnic origin. MIT's full policy on nondiscrimination can be found here.
Current Open Positions
View a full list of open staff and postdoctoral positions in AeroAstro via MIT HR.
The Academic Program Administrator is responsible for administering multiple aspects of AeroAstro's graduate program. This role will regularly interact with graduate students, their advisors, and the graduate community to support students. Responsibilities include overseeing petitions, research evaluations, academic warnings, qualifying field evaluations, defense planning, degree auditing. The Academic Program Administrator will also coordinate graduate fellowships and other funding, track student progress through the Ph.D. and SM programs, and coordinate all facets of the graduate admissions process.

This position is 100% effort and can work a hybrid work schedule (remote and on-campus). Salary range: Pay grade 8 ($69,100 – $114,065).
Principal duties and responsibilities
The Academic Program Administrator will have the following duties and responsibilities: 
Work as a team with the current Academic Administrator and planned Student Services Coordinator to create a friendly, welcoming, informative environment for our students, faculty, staff, applicants, prospective applicants, and visitors.
Coordinate the entire graduate admissions process for 1000+ SM and Ph.D. applicants yearly: internal & external student information sessions, application processing, applicant counseling, prospective applicant tours, targeted diversity recruiting, supporting the Graduate Admissions Committee, collaboration with central graduate admissions and related departments, organization of review process with faculty, decision notification, orientation, and open house planning, troubleshooting/problem solving, arranging interviews (should that become part of the process), and ongoing application/process/policy development and refinement.
Create programming for both graduate and undergraduate students to support them in a variety of their department-related endeavors, such as graduate admissions workshops, doctoral program orientation, etc.
Maintain the graduate academic and admissions portions of the departmental website, working with a team to develop all content.
Administer graduate student petitions, semester thesis/research electronic evaluations, registration, faculty advisor assignment, doctoral qualifying field evaluations, and doctoral thesis/thesis proposal defenses.
Serve as the main administrative point of contact for graduate students, their advisors, and the Graduate Committee chair to assist in student counseling/advising on the graduate program, funding, MIT policies and procedures, sensitive/confidential issues, etc.
Track the graduate student progress, and coordinate semester grades meetings and warning process, reporting to the AA Graduate Committee and Office of Graduate Education.
Audit students for graduation and organize spring AeroAstro Commencement activities.
Provide advice and resources to students interested in both external and MIT funding, coordinate internal fellowship nomination and allocation, and process all fellowship appointments for AeroAstro graduate students in MIT financial aid system.
Report on analysis of admissions and enrollment numbers and applicant satisfaction, to appropriate departmental committees.
Develop and maintain departmental databases and systems to securely house incoming, current, and alumni student information, in conjunction with the use of institute-level databases, software, and systems.
Collaborate with departmental Diversity Officer to develop and implement strategies to improve departmental diversity, as well as create an inclusive and equitable community for all.
Serve as Transitional Support Coordinator for AeroAstro, assisting with approval and awarding of transitional funding for graduate students, and providing guidance to them throughout the process.
Coordinate with AO, financial staff to identify any enrolled students without financial support, at the start of each semester. Report back to the Associate Department Head on issues identified.
Coordinate with IDHR, MIT Compliance on appropriate reporting mechanisms, including EthicsPoint. Raise awareness among students of their reporting options.
Other duties as assigned.
Supervision received
The Academic Program Administrator receives supervision from the Associate Department Head.
Supervision exercised
The role will include partial supervision of the Student Services Coordinator.
Qualifications
Education: Bachelor's degree required. Master's degree or 10 years relevant experience in an academic setting preferred. A minimum of 3 years of academic administration experience is required.
Skills
Excellent administrative, interpersonal, organizational, problem-solving, proofreading, and written communication skills.
Experience coordinating events.
Proficiency with Word, PowerPoint, Excel, Outlook, and ability to identify and learn new programs/software as needed. Experience with WebSIS, and GAP a plus.
Demonstrated commitment to diversity and serving diverse constituents.
Positive attitude and excellent interpersonal and communications skills for interacting with a diverse group of faculty, staff, and students.
Must be able to handle and prioritize multiple tasks simultaneously; work effectively under pressure and within critical time demands.
Must be able to work independently, as part of a team, and interact effectively with people at all levels and from varied backgrounds.
Ability to productively seek out root causes of issues, conceive innovative solutions, and move from concept to implementation.
Deals with confidential information and/or issues using discretion and judgment.
** To comply with regulations by the Americans with Disabilities Act (ADA), the principal duties in job descriptions must be essential to the job. To identify essential functions, focus on the purpose and the result of the duties rather than the manner in which they are performed. The following definition applies: a job function is essential if removal of that function would fundamentally change the job.
The Massachusetts Institute of Technology (MIT) Department of Aeronautics and Astronautics invites applications for tenure-track faculty positions with a start date of July 1, 2022 or a mutually agreeable date thereafter. The department is conducting a search for exceptional candidates in any discipline related to aerospace engineering, broadly defined, though particular interests are in: (i) the interaction of humans and autonomy, (ii) sustainable aviation, especially aero-engine technologies or environmental monitoring, and (iii) human exploration of space.

We are seeking highly qualified candidates with a commitment to research and education. Faculty duties include teaching at the graduate and undergraduate levels, advising students, conducting original scholarly research, developing course materials at the graduate and undergraduate levels, and service to the Institute and the profession.

Candidates should hold a doctoral degree in a field related to aerospace engineering or another relevant science or engineering field by the beginning of employment. The search is for candidates to be hired at the assistant professor level; under special circumstances, however, a senior faculty appointment is possible, commensurate with experience.

Applications must include a cover letter, curriculum vitae, 2-3 page statement of research and teaching interests and goals, as well as names and contact information of at least three individuals who will provide letters of recommendation. In addition, candidates should provide a statement regarding their views on diversity, inclusion, and belonging, including past and current contributions as well as their vision and plans for the future in these areas. Applicants with backgrounds outside aerospace should describe how a substantial part of their work will apply to aerospace problems. Applications must be submitted as a pdf via the MIT Faculty Search portal. Letters of recommendation must be submitted directly by the recommenders. To ensure full consideration, complete applications should be received by 1 December 2021. Applications will be considered complete only when both the applicant materials and at least three letters of recommendation are received.

MIT is building a diverse faculty and strongly encourages applications from female and minority candidates. For more information on the MIT Department of Aeronautics and Astronautics, please visit our website. Applicants may find reading our strategic plan helpful in preparing their application. Questions can be directed to faculty search chair Prof. Julie Shah at julie_a_shah@csail.mit.edu.

MIT is an equal employment opportunity employer. All qualified applicants will receive consideration for employment and will not be discriminated against on the basis of race, color, sex, sexual orientation, gender identity, religion, disability, age, genetic information, veteran status, ancestry, or national or ethnic origin. Read MIT's full policy on Nondiscrimination.
According to MIT Postdoctoral Services, postdocs are appointed with the title Postdoctoral Fellow or Postdoctoral Associate depending on the type and source of funding. MIT Policies and Procedures provides detailed descriptions and requirements for postdoctoral associate and postdoctoral fellow appointments.

The MIT title of Postdoctoral Associate applies to those who are paid a salary by MIT. Their salary is usually charged to a grant or contract secured by their faculty mentor. The MIT title of Postdoctoral Fellow applies to scholars who receive financial support in the form of a fellowship or stipend, usually from an outside agency, either directly or distributed through MIT on behalf of the sponsor. Typically, fellows are responsible for applying for a fellowship award. 

View and apply for open postdoctoral positions in AeroAstro via MIT HR.