About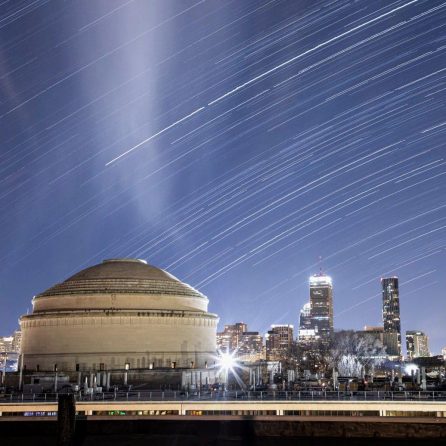 Our Mission
In the MIT Department of Aeronautics and Astronautics, we look ahead by looking up. At its core, aerospace empowers connection — interpersonal, international, interdisciplinary, and interplanetary. We seek to foster an inclusive community that values technical excellence, and we research and engineer innovative aerospace systems and technologies that have a world-changing impact. We educate the next generation of leaders, creative engineers, and entrepreneurs who will push the boundaries of the possible to shape the future of aerospace. We do these things while holding ourselves to the highest standards of integrity and ethical practice. Working together with our partners in the public and private sectors, we aim to expand the benefits of aerospace to create a more sustainable environment, strengthen global security, contribute to a prosperous economy, and explore other worlds for the betterment of humankind.
Our vision is to create an aerospace field that is a diverse and inclusive community, pushing the boundaries of the possible to ensure lasting positive impact on our society, economy, and the environment.
Our Values
We look to the values that define our department for guidance as we continue to navigate these ongoing challenges: succeeding together, leading through excellence in research and education, and creating a more open, diverse, inclusive, and supportive community, with ethics and integrity central to everything we do.
Course 16: Our Academic Programs
Whether you are passionate about flying machines, pushing the boundaries of human civilization in space, or high-integrity, complex systems that operate in remote, unstructured, and dynamic environments, you belong here.
Ranked among the top programs in aerospace engineering by US News & World Report for both graduate AND undergraduate studies.
Upon leaving MIT, our students go on to become engineering leaders in the corporate world, in government service, and in education. Our alums are entrepreneurs who start their own businesses; they are policy-makers shaping the direction of research and development for years to come; they are educators who bring their passion for learning to new generations; they are researchers doing transformative work at the intersection of engineering, technology, and science.
Undergraduate study in the department leads to the Bachelor of Science in Aerospace Engineering (Course 16), or the Bachelor of Science in Engineering (Course 16-ENG) at the end of four years. The AeroAstro undergraduate engineering education model motivates students to master a deep working knowledge of the technical fundamentals while providing the skills, knowledge, and attitude necessary to lead in the creation and operation of products, processes, and systems.
Graduate study in the Department of Aeronautics and Astronautics includes graduate-level subjects in Course 16 and others at MIT, and research work culminating in a thesis. Degrees are awarded at the master's and doctoral levels. The AeroAstro graduate program offers opportunities for deep and fulfilling research and collaboration in our three department teaching sectors (full descriptions below) and across MIT. Our students work side-by-side with some of the brightest and most motivated colleagues in academia and industry.
Our Research
Our department's core research capabilities include: autonomous systems & decision-making (autonomy, guidance, navigation, estimation, control, communications, and networks); computational science & engineering (computational mathematics and numerical analysis; high-performance computing; model reduction and multi-fidelity modeling; uncertainty quantification; and optimization approaches to engineering design); earth & space sciences (environmental impact of aviation; environmental monitoring; sciences of space and atmosphere; space exploration; earth observation; energy; plasma physics; aircraft/atmospheric interaction; and astrodynamics); human-system collaboration (human-machine systems; interactive robotics for aerospace medical, and manufacturing; human factors; supervisory control and automation; biomechanics; life support; and astronaut performance); systems design & engineering (system architecture; safety; optimization; lifecycle costing; in-space manufacturing; and logistics); transportation & exploration (aviation; space flight; aircraft operations; instrumentation; flight information systems; infrastructure; air traffic control; industry analysis; and space missions); and vehicle design & engineering (fluids; materials; structures; propulsion; energy; durability; turbomachinery; aerodynamics; astrodynamics; thermodynamics; composites; and avionics.)
Our Strategic Priorities
Our latest Strategic Plan accounts for the technical challenges we all face while seizing key opportunities to build upon our core capabilities as we impact the field of aerospace in new and exciting ways. In the latest version of the department's strategic plan, we identified seven additional areas of focus, or strategic thrusts, to pursue in tandem with our core capabilities. Strategic thrusts are forward-thinking, high-level initiatives that take into account both the current and future states of the aerospace field.
Our three research thrusts include: integrate autonomy and humans in real-world systems; develop new theory and applications for satellite constellations and swarms; and aerospace environmental mitigation and monitoring. These areas focus on long-term trends rather than specific systems and build upon our strengths while anticipating future changes as the aerospace field continues to evolve.

Our two educational thrusts include: lead the development of the College of Computing education programs in autonomy and computational science and engineering; and develop education for digital natives and digital immigrants. These goals respond to evident trends in education while leveraging the evolving MIT campus landscape as well as the increasing role of computing across society.

Our culture and leadership thrusts include: become the leading department at MIT in mentoring, advising, diversity, and inclusion; and make innovation a key component in MIT AeroAstro leadership. These areas respond to the priorities of our students and alumni while addressing pervasive challenges in the aerospace field.
Leadership & Administration
Administration (Headquarters Staff)