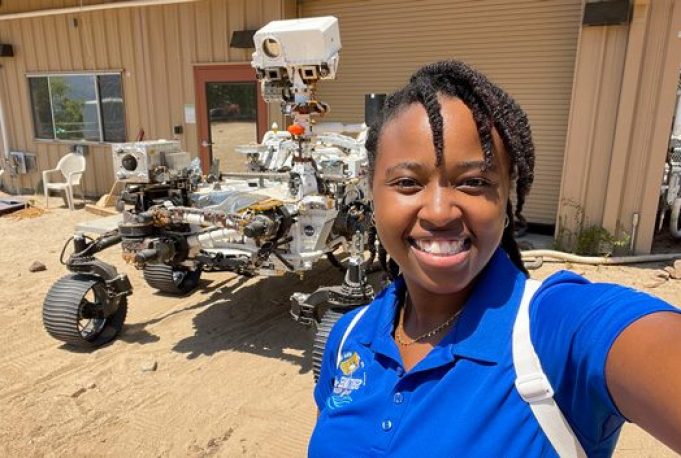 Image Courtesy of Janelle Wellons
Image Courtesy of Janelle Wellons
September 17, 2021
|
Julie Fox | Slice of MIT
Creating Space for Good, at NASA and Beyond
When Janelle Wellons '16 isn't working at NASA's Jet Propulsion Laboratory, she shares her story with kids who might not think of careers in aerospace. "There was never a younger version of me that thought one day I could work for NASA," she says.
When Janelle Wellons '16 isn't working on spacecrafts at the NASA Jet Propulsion Laboratory (JPL) she volunteers her time sharing her story with audiences who might not see themselves in the aerospace field.

"There was never a younger version of me that thought one day I could work for NASA," explains Wellons who didn't consider a career in aerospace engineering until she took an introductory course at MIT with Professor Jeff Hoffman.
After graduating from MIT, Wellons, began working as an instrument operations engineer at JPL on the Cassini Mission to Saturn operating the spacecraft's cameras.

"These cameras were no ordinary cameras, they were space cameras with incredible capabilities," explains Wellons, who shares her story through keynote talks at conferences, middle schools, high schools, on a PBS show called SciGirls, and through involvement with local nonprofits. "What we got back were images that would just blow your mind. I mean, just picture this totally black background with these moons in the foreground and these absolutely incredible rings. And it's not an artist's rendition, this is real, this is the real deal."

After 20 years in space, the Cassini Mission ended in 2017 and Wellons witnessed the moment the spacecraft went offline.

"I think it's so special that they even thought to include me as someone new to JPL who is new in their career," she says, "It's something I will absolutely never forget."

Wellons has also worked on the Lunar Reconnaissance Orbiter (a robotic mission that set out to map the moon's surface) and is currently working on projects on Earth, including Sentinel-6 (a satellite that measure sea-level changes), SWOT (a satellite that measures surface water and ocean topography), and the Multi-Angle Imager for Aerosols (an instrument that studies air pollution and its effects on human health).

Hear the rest of her story in this recent MITAA video.