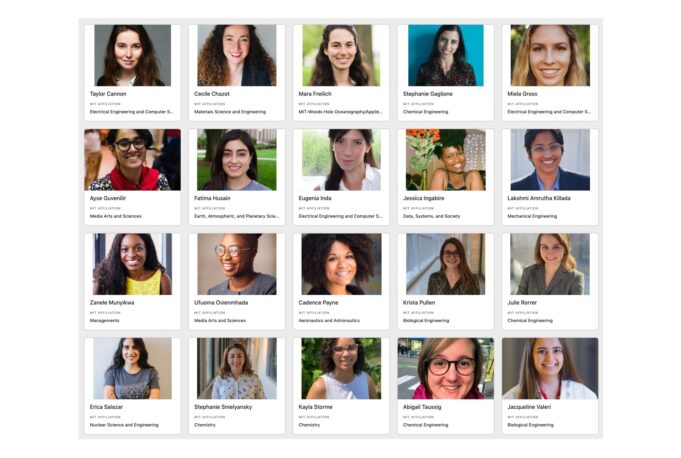 March 12, 2021
|
David Sweeney | MIT Innovation Initiative
Women in Innovation and STEM Database at MIT announces fellowship program
WISDM, the Women in Innovation and STEM Database at MIT, celebrated the first anniversary of its digital launch on March 8 — International Women's Day. To mark the occasion, the tremendous growth of the WISDM community, MIT Innovation Initiative (MITii), which manages the platform/community, announced the WISDM Fellowship Program.
WISDM promotes the visibility of women in the MIT academic community, increases gender diversity in innovation and entrepreneurship, and makes it easier to find talented and diverse speakers for various events. In partnership with MITii, WISDM founder Ritu Raman, an MIT postdoc and AAAS IF/THEN Ambassador, applied for and was awarded a $10,000 AAAS IF/THEN Ambassadors Grant for public engagement with science activities that teach, inspire, and promote the next generation of women in STEM. With this funding, WISDM launched a fellowship program for scientists interested in improving their public speaking capabilities.
"When I had the opportunity to apply for the grant, I immediately thought of WISDM as a great community of women who could benefit from professional development resources supported by this funding," states Raman. "We all know from experience that the most impactful role models are often highly effective communicators. The WISDM Fellowship Program will help women leverage their scientific expertise by combining it with a formalized speaker training program with The Story Collider, and will also financially reward women for speaking engagements via honorariums. This new program is important to me because it reiterates the core philosophy of WISDM: Women's expertise and time are valuable assets, and we need to make diverse voices a part of every conversation in STEM."
Through the WISDM Fellows application and review process, 20 exceptional women were selected to participate in the program. They are:
Taylor Cannon, Department of Electrical Engineering and Computer Science
Cecile Chazot, Department of Materials Science and Engineering
Mara Freilich, MIT-Woods Hole Oceanography/Applied Ocean Science and Engineering
Stephanie Gaglione, Department of Chemical Engineering
Miela Gross, Department of Electrical Engineering and Computer Science
Ayse Guvenilir, Media Lab
Fatima Husain, Department of Earth, Atmospheric and Planetary Sciences
Eugenia Inda, Department of Electrical Engineering and Computer Science
Jessica Ingabire, Institute for Data, Systems, and Society
Lakshmi Amrutha Killada, Integrated Design and Management
Zanele Munyikwa, MIT Sloan School of Management
Ufuoma Ovienmhada, Media Lab
Cadence Payne, Department of Aeronautics and Astronautics
Krista Pullen, Department of Biological Engineering
Julie Rorrer, Department of Chemical Engineering
Erica Salazar, Department of Nuclear Science and Engineering
Stephanie Smelyansky, Department of Chemistry
Kayla Storme, Department of Chemistry
Abigail Taussig, Department of Chemical Engineering
Jacqueline Valeri, Department of Biological Engineering
"In my family, storytelling has always been important," says WISDM Fellow and Department of Nuclear Science and Engineering graduate student Erica Salazar. "Every holiday season, my family gathers at our annual tamalada (where we make tamales) to tell stories. It has the powerful ability to bring us closer together when we are apart most of the year. Storytelling is another medium to engage an audience to absorb abstract or difficult concepts in a personal way. I am honored, through this fellowship, to learn how to harness storytelling methods to create a personal bond with others — and particularly, to engage young girls and kids in STEM."
Since its digital launch last March, the community has grown to 135 members, and the platform has received over 16,000 page views from more than 9,000 unique users in 83 countries. Current MIT graduate students, postdocs, technical associates, or research staff members who identify as a woman are eligible to join.