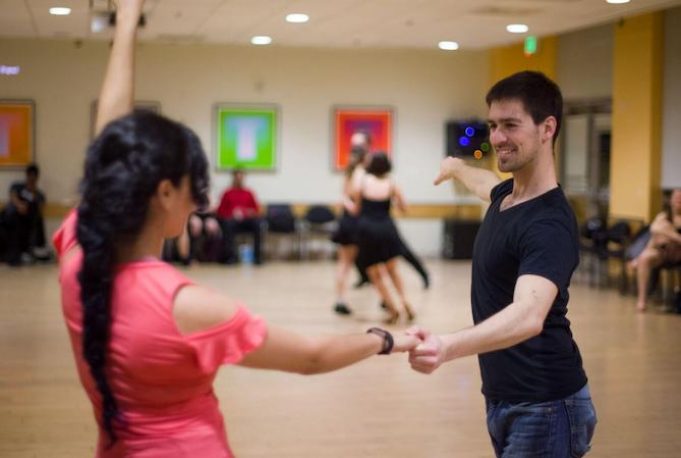 February 1, 2019
|
Brandon L.|Grad Admissions Blog
The Grad School Cha-Cha
Scientists and engineers dance too!

"Nope," I told the girl I was dating in high school, "I don't dance."

And I meant it. Or at least I thought I did until she broke up with me. My post-breakup energy simmered over the following months until – awkwardness and fear be damned – I added ballroom dancing to my schedule at Penn State.

I've been dancing for five years now – two with the MIT Ballroom Team – and at times, I've felt frustrated, stressed, and inadequate.

But I love it.

For every practice that has left me feeling tired and annoyed, there have been many more where I've left excited and fulfilled.


Each dance class progresses from technical awareness to artistic expression. "Stability comes from stretch," preaches my Austrian dance teacher. He stands in jeans and a flannel, watching us move, like a sculptor inspecting a half-completed statue. "The free leg should have lateral rotation and medial tilt." And so I adjust.

Honing this craft requires intention. It requires presence and mindfulness, and some days it's difficult to reach this level of focus. The effort is individual: "Put on your own oxygen mask before helping others," our teacher reminds us. Still, being absorbed in the minutiae of dance is not just a route to technical improvement, but it's also therapeutic in its own right.

For forty-five minutes, I focus on one moment in one figure. I forget about the exam I have in a couple days, the homework that's due next week, the problems I've been having in my research. Instead, I become aware of new sensations in my ankle – or maybe my hand, or my back. On the best days, I feel something I've never felt before – a tug here, a relaxation there – that allows me to move more freely.

As the class approaches its end, we move from craft to art. Our dance teacher turns the music up. He reminds us: "Stop trying to look beautiful. Move naturally, and the beauty will be there."

The craft is difficult, but for me, the art is harder. Self-expression requires self-acceptance. It requires vulnerability, and that's hard to find; MIT is an institution stuffed to the dome with impostor syndrome, and I am no exception.

Still, craft liberates art. As my dancing progresses technically, my self-awareness improves, and I become more genuine in my self-expression. It's easier to move naturally – to be myself.

As self-expression becomes easier in one medium, it also becomes easier in others. I love playing piano and doing improv theater. The crafts are different, but the art is always the same: How much of myself am I willing to share with the world?
To those who are considering new artistic endeavors: do it! The craft offers a momentary escape from grad school's grind, and the art makes you feel validated and alive.

To those who already have their medium, but are stuck in one of those "tired and annoyed" phases: keep practicing! Your next breakthrough is just around the corner.

And to the girl I dated in high school: I was wrong, and I'm comfortable enough to admit that now.

I do dance.

This story was originally posted on the MIT Grad Admissions blog.