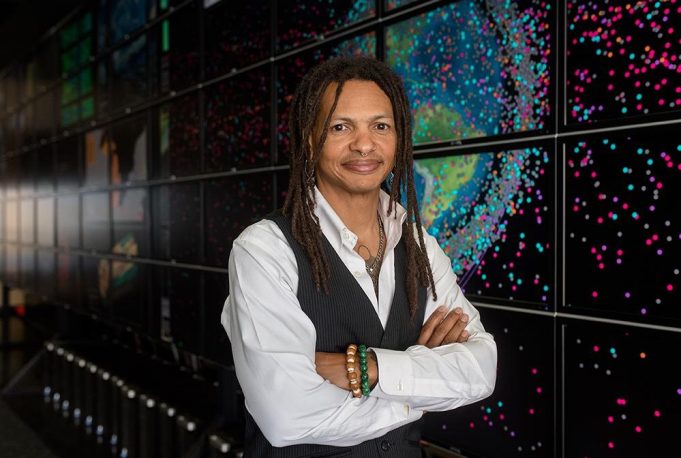 Image courtesy of Moriba Jah
Image courtesy of Moriba Jah
May 17, 2022
|
Alessandra Davy-Falconi | MIT Media Lab
Space Enabled Affiliate Moriba Jah named MLK Visiting Professor
Space Enabled Affiliate Moriba Jah has been named an MLK Visiting Professor starting in January, 2023. MIT established the Dr. Martin Luther King Jr. Visiting Professor Program to enhance and recognize the contributions of outstanding scholars. The program honors the life and legacy of Dr. Martin Luther King Jr. by increasing the presence of minority scholars at MIT. He will be co-hosted by Professor Danielle Wood, director of the Media Lab's Space Enabled research group, and Professor Richard Linares, director of MIT AeroAstro's Astrodynamics, space Robotics, and Controls Laboratory (ARCLab).

Dr. Martin Luther King, Jr. Visiting Professors and Scholars enhance their scholarship through intellectual interactions with MIT peers and enrich the intellectual life of the Institute with their participation in MIT research and academic programs. Scholars are expected to be deeply engaged in the life of the Institute through teaching, research and other scholarly interactions with the MIT community. Their presence gives them the opportunity to make a significant impact on the growth and awareness of undergraduate and graduate students, as well as the MIT community as a whole.

Dr. Moriba Jah joined the Department of Aerospace Engineering and Engineering Mechanics at UT Austin in 2017. His research interests are in non-gravitational astrodynamics and advanced/non-linear multi-sensor/object tracking, prediction, and information fusion. His expertise is in space object detection, tracking, identification, and characterization, as well as spacecraft navigation.

He received his BS in Aerospace Engineering from Embry-Riddle Aeronautical University, Prescott, Arizona, and his MS and PhD in Aerospace Engineering Sciences from the University of Colorado at Boulder specializing in astrodynamics and statistical orbit determination.

Prior to being at UT Austin, Dr. Jah was the Director of the University of Arizona's Space Object Behavioral Sciences with applications to Space Domain Awareness, Space Protection, Space Traffic Monitoring, and Space Debris research to name a few. Preceding that, Dr. Jah was the lead for the Air Force Research Laboratory's (AFRL) Advanced Sciences and Technology Research Institute for Astronautics (ASTRIA) and a Principal Investigator for Detect/Track/Id/Characterize Program at AFRL's Space Vehicles Directorate.
Before joining AFRL in 2007, he was a spacecraft navigator for NASA's Jet Propulsion Laboratory (JPL) in Pasadena, CA, serving on Mars Global Surveyor, Mars Odyssey, Mars Express (joint mission with ESA), Mars Exploration Rovers, Hayabusa (joint mission with JAXA), and the Mars Reconnaissance Orbiter.

Prof Jah is a Fellow of multiple organizations: TED, American Institute of Aeronautics and Astronautics (AIAA), American Astronautical Society (AAS), International Association for the Advancement of Space Safety (IAASS), Royal Astronomical Society (RAS), and the Air Force Research Laboratory (AFRL). He has served on the US delegation to the United Nations Committee On Peaceful Uses of Outer Space (UN-COPUOS), is an elected Academician of the International Academy of Astronautics (IAA), and has testified to congress on his work as related to Space Situational Awareness and Space Traffic Management. He's an Associate Editor of the IAA and Elsevier Acta Astronautica journal, and serves on multiple committees: IAA Space Traffic Management, IAA Space Debris, AIAA Astrodynamics, IAF Astrodynamics, and IAF Space Security.

Dr. Jah is a world-recognized subject matter expert in astrodynamics-based Space Domain Awareness sciences and technologies with 75+ publications in peer-reviewed journals, conferences, and symposia. He's been an invited lecturer and keynote speaker at 20+ national and international space events, workshops and fora.