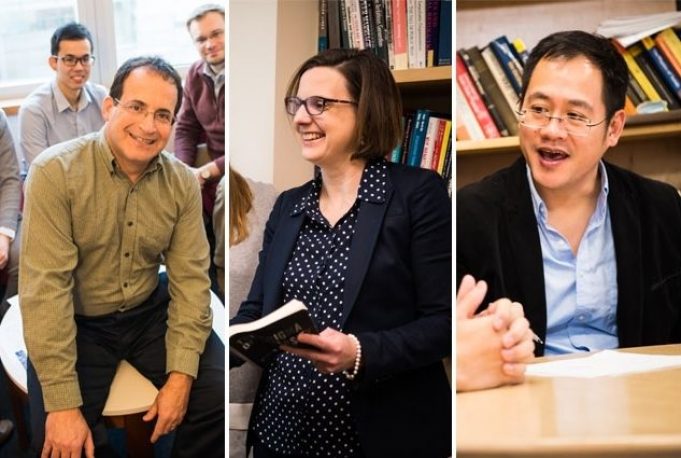 July 18, 2019
|
Courtney Lesoon | Office of Graduate Education
Portraits of mentoring excellence
Committed to Caring honors professors Modiano, Kelly, and Li, and calls for nominations.
What makes a great faculty mentor? Appreciative graduate students from across the Institute have thoughts — lots of them.
In letters of nomination to the Committed to Caring (C2C) program over the past five years, students have lauded faculty who validate them, who encourage work-life balance, and who foster an inclusive work environment, among other caring actions. Professors Eytan Modiano, Erin Kelly, and Ju Li especially excel at advocating for students, sharing behind-the-scenes information, and demonstrating empathy.

The pool of C2C honorees is still expanding, along with a growing catalog of supportive actions known as Mentoring Guideposts. A new selection round has just begun, and the C2C program invites all graduate students to nominate professors for their outstanding mentorship by July 26.

Eytan Modiano: listening and advocating

Eytan Modiano is professor of aeronautics and astronautics and the associate director of the Laboratory for Information and Decision Systems (LIDS). His work addresses communication networks and protocols with application to satellite, wireless, and optical networks. The primary goal of his research is the design of network architectures that are cost-effective, scalable, and robust. His research group crosses disciplinary boundaries by combining techniques from network optimization; queueing theory; graph theory; network protocols and algorithms; machine learning; and physical layer communications.

When students reach out to Modiano for advice, he makes time in his schedule to meet with them, usually the same day or the next. In doing so, students say that Modiano offers invaluable support and shows students that he prioritizes them.

Modiano provides his students with channels to express their difficulties (a Mentoring Guidepost identified by the C2C program). For example, he allots unstructured time during individual and group meetings for student feedback. "These weekly meetings are mainly focused on research," Modiano says, "but I always make sure to leave time at the end to talk about anything else that is on a student's mind, such as concerns about their career plans, coursework, or anything else."

He also reaches out to student groups about how the department and lab could better serve them. As associate director of LIDS, Modiano has responded to such feedback in a number of ways, including working alongside the LIDS Social Committee to organize graduate student events. He has advocated for funding of MIT Graduate Women in Aerospace Engineering, and was a key proponent of the Exploring Aerospace Day, an event the group hosted for interested high school students.

Modiano does not think in binary terms about success and failure: "No single event, or even a series of events, is likely to define a career." Rather, a career should be seen as a path "with ups and downs and whose trajectory we try to shape."

Modiano advises, "If you persist, you are likely to find a path that you are happy with, and meet your goals."

Erin Kelly: sustainably moving forward

In her students' estimation, Erin Kelly, the Sloan Distinguished Professor of Work and Organization Studies, rises to the level of exceptional mentorship by channeling her expertise in work and organization studies to the benefit of her advisees.

Kelly investigates the implications of workplace policies and management strategies for workers, firms, and families; previous research has examined scheduling and work-family supports, family leaves, harassment policies, and diversity initiatives. As part of the Work, Family, and Health Network, she has evaluated innovative approaches to work redesign with group-randomized trials in professional/technical and health care workforces. Her book with Phyllis Moen, "Overload: How Good Jobs Went Bad and What to Do About It," will be published by Princeton University Press in early 2020. 

In Kelly's words, she tries to "promote working in ways that feel sane and sustainable." She does not count how many hours her students spend on projects or pay attention to where they work or how quickly they respond to emails. Kelly says that she knows her students are committed to this effort long-term, and that everyone works differently.

One student nominator noted that Kelly was extremely supportive of her decision to have a child during graduate school, offering her advice about how to balance work and home as well as how to transition back into school after maternity leave. The nominator notes, "Erin does not view the baby as an impediment to my professional career."

In addition to providing advice on course selection and dissertation planning, Kelly offers her students "informal" advising (a Mentoring Guidepost) that goes beyond the usual academic parameters. Kelly "explained to me the importance of networking in finding an academic job," another student says, "I've appreciated this informal mentoring, particularly because I am a woman trying to enter a male-dominated field; understanding how to succeed professionally is important, but is not always obvious."

Ju Li: a proven mentor and friend

Ju Li is the Battelle Energy Alliance Professor of Nuclear Science and Engineering and professor of materials science and engineering at MIT. Li's research focuses on mechanical properties of materials, and energy storage and conversion. His lab also studies the effects of radiation and aggressive environments on microstructure and materials properties.

Li shows empathy for students' experiences (a Mentoring Guidepost identified by the C2C program). One student remarked that when they were not confident in their own abilities, Li was "extremely patient" and showed faith in their work. Li "lifted me up with his encouraging words and shared his own experiences and even struggles."

He concerns himself with both training academic researchers and also preparing students for life after MIT, whether their paths lead them to academic, industry, governmental, or entrepreneurial endeavors. Li's attention to his students and their aims does not go unnoticed. One C2C nominator says that former group members often come back to visit and to seek advice from Li whenever possible, "and nobody regrets being a member of our group."

It is clear from their letters of nomination that Li's students deeply admire his character and hold him up as a lifelong role model. In addition to his caring actions, they cite his humility and his treatment of students as "equals and true friends."

Just as Li's students admire him, Li was inspired by his own graduate mentor, Sydney Yip, professor emeritus of nuclear science and engineering, and materials science and engineering at MIT. Li says that Yip taught everyone who encountered him to become better researchers and better people. In graduate school, Li says, "I benefited so much by watching how Sid managed his group, and how he interacted with the world … I felt lucky every day."

More on Committed to Caring (C2C)

The Committed to Caring (C2C) program, an initiative of the Office of Graduate Education, honors faculty members from across the Institute for their outstanding support of graduate students. By sharing the stories of great mentors, like professors Modiano, Kelly, and Li, the C2C Program hopes to encourage exceptional mentorship at MIT.

Selection criteria for the award include the scope and reach of advisor impact on the experience of graduate students, excellence in scholarship, and demonstrated commitment to diversity and inclusion.

Nominations for the next round of honorees must be submitted by July 26. Selections will be announced in late September.