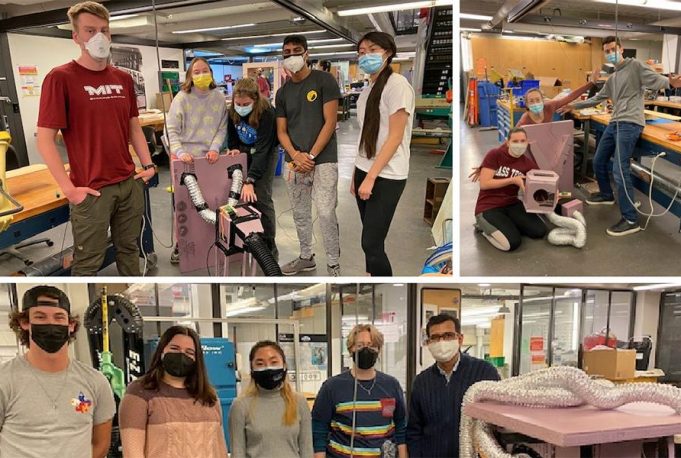 Photo: Olivier "Oli" de Weck
Photo: Olivier "Oli" de Weck
March 4, 2022
|
Gordon-MIT Engineering Leadership Program
MIT engineering design and rapid prototyping course gets a refresh
The Bernard M. Gordon-MIT Engineering Leadership Program (GEL Program) recently revamped and relaunched 16.810 (Engineering Design and Rapid Prototyping), an existing Department of Aeronautics and Astronautics course last taught in 2012 that was updated to center on a new multidisciplinary project focused on the fundamental skills in engineering design. D-PRO serves as one of five elective course offerings students in the GEL 1 Program can choose from in order to fulfill the Design and Innovation Leadership Requirement. The course aims for students to develop a holistic view of the design process within an engineering industry context through conceiving, designing, prototyping, and testing a multidisciplinary component or system. D-PRO integrates classroom-based learning with hands-on exploration, challenging small teams of students to design and develop solutions to a modified, "real-life" application.
Apollo Program Professor of Astronautics and Engineering Systems and GEL Program faculty co-director Professor Olivier "Oli" de Weck, who co-instructed the course, says "Designing and building new products and systems. Working in diverse teams. Testing against quantitative requirements. Competing for contracts and market share. Those are all things we simulate during two intense weeks in 16.810 D-PRO."
As part of the course, students participated in a team-based design competition that provided a competitive solution (across both cost and performance measures) for a next-generation air quality system for vehicle cabins. The key goal of the competition was to rethink the vehicle cabin comfort and health for an automaker's transition to an all-electric vehicle lineup. Student teams were tasked with reducing the probability of contracting a viral disease in the cabin (compared to present-day typical cabins), while achieving at/better climate control system performance, and while minimizing electrical power consumption — for an electric vehicle where everything runs off the battery, there's no energy to spare. The teams were also responsible for meeting 16 design requirements, and then the vehicle maker scored teams on both "cost" and "performance." The teams then competed to win a supplier contract from the vehicle maker.
Current GEL 1 and Course 2 senior Kiely Smiga-McManus says, "I appreciated that the industry-like structure of the class provided me with a glimpse into the business of engineering and illustrates all that goes into the development of new technology." Regarding the hands-on fabrication component of the course, Smiga-McManus comments, "I particularly enjoyed experimenting with the CNC wire cutter, which allowed my team to produce a high-quality system with complex geometry and crisp edges."
Throughout the two weeks, the teams worked a full 9 a.m. to 5 p.m. schedule every day to create and improve upon their first-iteration prototypes and were challenged to further optimize their systems in a version 2 design. Notably, each student team chose to implement a different system architecture and design, despite having the same requirements, instructions, and materials available at the start. The different teams' system costs also varied by plus or minus 25 percent.
Course co-instructor Jim Magarian, GEL program senior lecturer and associate academic director, says "It's great to be able to offer a variety of ways that students can fulfill the GEL program's Design and Innovation Leadership Requirement. D-PRO demonstrates that a substantial learning experience in engineering design can be attained in a condensed IAP [Independent Activities Period] course format. I'm proud of this year's D-PRO students for pushing the limits with their projects, illustrating how design optimization can be achieved through extensive analysis, testing, and iteration in a relatively short time period — if done methodically." Rebecca McCabe, alumna of MIT's Course 2 mechanical engineering and now a doctoral student at Cornell University, served as teaching assistant and received high marks from the students.
Guest lectures were given on computational fluid dynamics by Professor Adrían Lozano-Duran and by Faurecia, a France-based automotive supplier that develops leading-edge vehicle interiors.
This class was originally developed through a grant by the alumni-sponsored Teaching and Education Enhancement Program (Class of '51 Fund for Excellence in Education; Class of '55 Fund for Excellence in Teaching; Class of '72 Fund for Educational Innovation).