UPDATE: Jack Fischer had a live Q&A from the International Space Station on May 10 where he answered questions from MIT students in front of a live audience on campus. Click on the above view to watch a recording of the event. 

After visiting NASA headquarters in Houston at age six, Jack D. Fischer SM '98, a colonel in the US Air Force, knew he wanted to be an astronaut. "I really wanted to be a part of something bigger than myself and it just captured my imagination," says Fischer.

His dream evolved over the years but he never wavered. Fischer earned a bachelor's degree from the US Air Force Academy before completing his master's in aeronautics and astronautics from MIT.
During his time in the Air Force, Fischer served two combat tours in southwest Asia before attending the US Air Force Test Pilot School. In 2009, Fischer was selected as a member of the 20th NASA astronaut class and he was finally able to earn his astronaut badge after entering space as member of Expedition 51, which launched on April 20, 2017.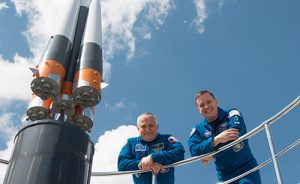 Fischer and his crewmate, Fyodor Yurchikhin from the Russian space agency Roscosmos, traveled in a spaceship named Argo on a six-hour course to the International Space Station. The pair will spend the next four months continuing the work of Expedition 51, performing hundreds of experiments in biology, biotechnology, physical science, and Earth science.

Since launching on April 20, Fischer has kept his followers on Facebook, Twitter, and Instagram updated about everything from space nachos to sunsets. "Even the mightiest of mountains look so small against the vastness of space," says Fischer via Twitter.

Fischer is one of nearly three dozen MIT alumni astronauts including Buzz Aldrin ScD '63, the Apollo 11 pilot for the first manned lunar landing; and Rusty Schweickart '56, SM '63, who piloted the Apollo 9's first lunar module flight; and Christopher Cassidy SM '00, P '16, chief of the Astronaut Office.

This story was originally posted on the Slice of MIT Blog.