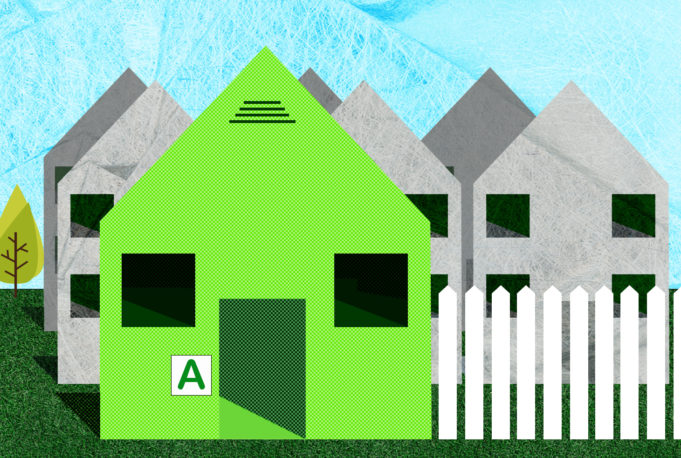 Image: Christine Daniloff, MIT
Image: Christine Daniloff, MIT
May 9, 2021
|
Zach Winn | MIT News Office
Ekotrope makes building energy-efficient homes easier
These days homebuilders might have several reasons to make new homes energy-efficient. They may be required to hit efficiency goals by local building codes. They may want to take advantage of financial incentive programs offered by governments, lenders, and utilities. They may just want to appeal to the growing segment of home buyers who prioritize sustainability and want lower energy bills.
But the process of building energy-efficient homes and then getting certifications requires cooperation across a complex ecosystem of players. For the last 10 years, Ekotrope has worked to simplify that process.
The company's software was inspired by system optimization work done for NASA by Ed Crawley, Ford Professor of Engineering at MIT and co-founder of Ekotrope. It brings together disparate systems used by builders, home energy raters, and utilities to calculate the efficiency and costs of different designs. Energy raters can then use Ekotrope's system to apply for home energy certifications. If the criteria aren't met, the system gives reasons why. If the submission is successful, Ekotrope completes the accreditation process instantaneously.
"The problem we are trying to solve is that information does not flow very well," co-founder and CEO Ziv Rozenblum SM '07 says. "For example, previously, if a builder wanted to participate in an energy efficiency program, they'd send a file, it could take months to get feedback, they'd make corrections, and many hands would touch that file. We automated almost everything."
Today Ekotrope is one of the leading energy-accreditation systems in the country. The company says its software has been used to certify more than half a million homes and is used in the construction of one in every five new homes in the U.S.
The company's success translates to major impact in a home energy sector responsible for a fifth of all U.S. greenhouse gas emissions. For the founders, the success affirms their belief that the U.S. can make huge strides in reducing carbon emissions using today's technologies — as long as the right systems are in place.
"I see all this interest in inventing new technologies and building energy-efficient solutions, but we think a lot of progress can be achieved with existing solutions," Rozenblum says. "You just need to help people make the right choices at the right time. All the stakeholders want to make the right decisions; they just don't always have the right information."
Building a better system
The idea for Ekotrope, like so many successful businesses, came from a bad experience. Crawley was working with a contractor and architect to build a new home and was disappointed that neither person could project the impact different materials and appliances would have on the overall energy efficiency of the home. At MIT, Crawley had worked with NASA and BP on projects in which researchers had to determine the impact of different parts on efficiency, performance, cost, and more.
"He had a light bulb go off that designing a home is a similarly complex process," Ekotrope co-founder and lead engineer Nick Sisler '11 says. "There are a lot of options. Specifically around energy efficiency, there are all these different components of a home that affect energy consumption and cost — whether it's insulation, heating and cooling systems, solar panels on the roof, light bulbs — all of those things have an impact on energy and cost."
In 2010, Cy Kilbourn, a visiting researcher at MIT from Brown University, and Rozenblum, who had been a research assistant for Crawley as a graduate student, worked with Crawley to understand how different home construction decisions impacted energy efficiency. The following year Rozenblum quit his job to run Ekotrope full time. Sisler, who had researched the home energy preferences of buyers with Crawley as an undergraduate, joined shortly after graduation in 2011. The other founders are software engineer Ben DeLillo and Kenneth Lazarus SM '89, PhD '92.
The founders initially began building a software solution for architects and builders, calculating the costs associated with different design options and their impact on efficiency and emissions. A key component of the solution was an algorithm that measured hourly energy use in different scenarios.
Around 2016, Ekotrope pivoted to selling to home energy raters. Raters sit at the heart of home energy accreditations, working with builders, utilities, accreditation agencies, mortgage lenders, and governments, and providing an energy score for climate-conscious buyers.
"The [energy raters] will work with the builder, get their building plans, put that data into Ekotrope, and see what energy consumption is predicted to be, what energy codes the home will need, what programs it qualifies for, like Energy Star or tax credit or utility rebate programs," Sisler explains. "All that stuff is integrated into our solution."
The system streamlines a process the founders say had prevented energy efficiency programs from reaching their full potential.
"People are making worse decisions because they lack information, and there's lot of double data entry and inefficiencies," Rozenblum says. "We try to solve that by making systems that provide people with the information they need to make better choices."
Leaving a large footprint
The founders say about 75 percent of new energy-efficient homes in the U.S. are accredited with help from Ekotrope's software. Most of those homes are single-family.
The company has partnered with some of the largest programs promoting home energy efficiency in the country. Ekotrope has also partnered with mortgage lenders, material suppliers, and about 40 utilities.
That progress has put Ekotrope in a unique position to help different players in the industry understand what kind of incentives improve sustainability and what other trends they need to prepare for.
"We probably have the most inclusive database of information on new homes," Rozenblum says. "We have information like who's building new homes, where, what kind of materials they're using, how far they are from an energy goal, how much CO2 they will add to the atmosphere, what's the projected performance, what kind of incentives are working and not working."
Ekotrope also sees opportunities to work more closely with utilities, and has seen strong results from pilot programs that let utilities make suggestions to raters and builders.
"It's exciting to show that energy efficiency and economic decisions aren't different," Rozenblum says. "You can make money and be efficient at the same time."